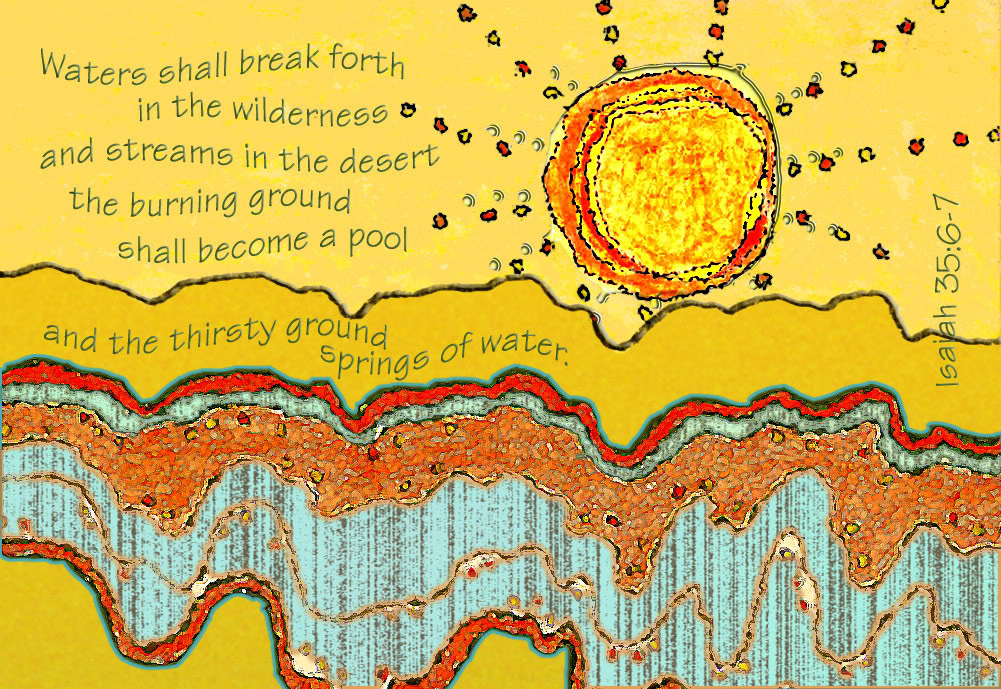 Thank you to the New Scotland Presbyterian Church for inviting me to preach.  This sermon is for the Third Sunday of Advent on Isaiah 35: 1-10.
********
Have you ever had a moment or more than just a moment, but a season in life when you wondered if your joy and hope would ever return?  Maybe loneliness, depression, grief, or anxiety gripped your life or the life of those around you?  
Have you ever felt hopeless, stranded, stuck or in a ditch?  
Anything about any of this sound familiar?  
If so, then this part of Isaiah is for you!  
The Prophet shouts out:
The wilderness and the dry land shall be glad!  The desert shall bloom and rejoice!  Weak hands will be strengthened! If your heart isn't strong, it will be made so!  God is coming!  If you are blind, you'll be able to see, if you can't walk, you will soon be running all over the place!  Those who have harassed, bothered, mocked you or tried to destroy your life will be banished!  You will be in a safe place–called the highway of God, the Holy Way!
Well, that's my paraphrase of this passage.  Today is the Sunday for joy in Advent, but maybe some of us are struggling this season with joy.  The lights of Christmas are out and twinkling, carolers are singing, presents are being wrapped–but as we all know, many people struggle in this season to experience joy.  And that struggle can be overwhelming.  
Maybe resting in God's Word this week will help you when you feel despairing, or maybe it is the Word you need to bring to someone or someplace that is despairing.  Either way, this is God's Word, it is good and it is for everyone.  It's a prophetic Word because it is so startling with its joy and with its hope in the midst of destruction, pain and terror.  
And what is more prophetic in our world today than unabashed joy, uninhibited hope?  
And yet, despite the joy in today's passage in Isaiah, we are reminded that in the struggle we are not alone, God is present!  
This is not a pollyannish, if-you-are-not-perfect-like-my-faith-in-God passage.  
Isaiah declares that God is working for our good, our renewal, and yes, even our joy.  God is always looking out for us, acting on our behalf and making a way in the dry deserts of life.  
Isaiah fully acknowledges that the Word for today comes out of a place of pain and disbelief.  Isaiah doesn't sugarcoat it.  Isaiah owns that part of the story, and it is from there that Isaiah makes his faith-claim.  That's the reality-based good news we seek to believe in during this season.
One of the commentators I read this past week offers this beautiful way of seeing the scripture reading:
The Good News at Advent is that God has not taken off on a retreat but that the God who cares for the dry and barren places cares for each and all of us.  God shows up even in the desert and barren places of life to await us in renewal, restoration and salvation.  (Feasting on the Word)
God is also in this passage a God of vengeance, a protecting God.  Isaiah describes a God who realizes that much of the destitution that the people of God or the communities that they are a part of experience is because of the evil actions of others.  And so in today's passage God comes in as a protector, banishes the evil-doers and sets up a safe space for care and healing.  And this is part of the calling that we hear for ourselves in Isaiah today as well, we are called to be bearers and bringers of the hope and love of God–but we are also called be be banishers and protectors where evil has taken root.  
This is a fully active faith, not sit-in-the-pews-and-pray faith.  
This is faith that is in the street, in the public square, notices each person, each community, each place that is out of sorts and set out to make it right, make things whole, and then joyfully celebrate what God has done for us and what God has empowered us to do on behalf of others.  
What do these images of God mean for you and I today?  
Part of me, perhaps part of you, is in a contemplative mood as I get ready for the end of the year.  In my mind I am spending some of my time reviewing this past year and anticipating the New Year.   Like many of you some of my memories are good of this past year, some are troubling.  I had peaks and valleys in life, we all do.  I have my worries and my fears and also my dreams.  There are moments when I feel very alone, and moments where I feel as though I have all I need.  As I look towards the New Year I am anticipating some things, dreading other things.  Our lives are a mix of all of these things.  
The season of Advent is like this too, a season when we engage in holy waiting for the birth of the Christ Child and the inbreaking again of God's Spirit, unleashing itself onto our world, a spirit of peace and justice, but also a spirit of reckoning and judgement.  I love this passage from Isaiah because with all of its sweetness and assurance, there is also the strong hand of God, a reminder that there is strength in the power of God, there is strength that protects and also defends our lives.  And this strength and protection extends to the most vulnerable around us and the communities we are most concerned for, especially in this time.  
As we close today, I'd like to share with you a story.  It is not my story, but it is a story that is connected to all of us.  It is written by a young woman, her name is Olivia Orth.  Her mother, Bonnie Orth is the pastor of our Mayfield Church here in our Presbytery.  Olivia is serving this year as a Young Adult Volunteer through our PCUSA Young Adult Volunteer program (sort of like the Presbyterian Peace Corps) in Zambia, Africa.  She is working at a school in a small village there.  Her story is connected to you and to me because the YAV program is supported by our gifts to the denomination, and here in our local Presbytery, we are supporting Olivia this year with some of our peacemaking funds.  While she is in Zambia, Olivia is keeping a blog, and in it she wrote this story about a week she had recently when she felt down and out, as though God was absent from her life.  And then she experienced her Isaiah-moment, when water was brought to her in a desert-time of her life.  Listen to her story, told in her voice:
I have had a really rough week.  I have been kind of down on myself, nothing has really felt like it has been going right, and I have encountered numerous obstacles that felt steeper than I wanted to overcome.

Today was no different.  I had a rough morning teaching, and I was becoming discouraged.

Right before lunch, I read my students a fun little story to help give them a break from test prep (end of term tests start next week) and give myself a break from a not-so-fun morning.  Lunch is over and I call my students back into class.

"Madam Olivia, we want to keep telling stories," my students tell me.

I am a little too quick to oblige, because this means that they get to practice their English, and I just get to sit back and listen.  It sounded like a good plan to me, and who doesn't love a good story, right?  So that's what we did.  For the next hour, we took turns telling stories, and it was nice, but I was still feeling really stressed about everything that has been happening the last few days.

And then we got to the last story.

It goes like this:

"There once was a teacher with really long hair.  She moved to Zambia because she really liked working with children and warm weather.  She liked to dance and move and shake her arms when people are getting sleepy.  Sometimes she doesn't understand her pupils.  Sometimes she makes her pupils repeat things a lot.  She is a good teacher.  She likes us.  She is a good teacher because she is beautiful, and smart, and she doesn't beat us, and she has a good heart.  That is the end of the story.  It is about you."

I needed that story.

It doesn't matter what obstacles come into my life, because if my students think that having me in theirs is worthwhile, than I am right where I belong, even if I have bad days or even weeks in this case.
Maybe you and I do not need a prophet like Isaiah or a preacher or a teacher or a booming voice from the clouds to bring us our joy and to remind us of the goodness of God.  Sometimes that gift comes from the voice of a child, or the whispering of a friend.  Sometimes joy comes from the quiet and everyday places in life.  
The Good News for today is that God is working a way.  
The Good News for today is that our joy is for the healing of our souls and the healing of our world.
That's the candle in the darkness, that's the hope in the Christ Child soon to meet us once again on Christmas Day.
May it be so, for you and for me.  Amen….
********
Image from Dwelling in the Word
Portions of this sermon are also included in my blog for Advent 3 for Albany Presbytery.