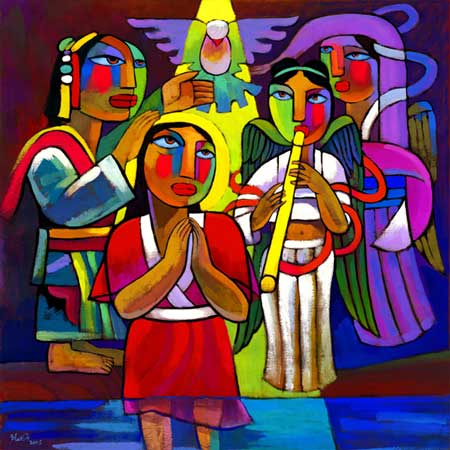 Thank you to the Schoharie United Presbyterian Church for inviting me to preach on Sunday November 6, 2016 and to participate in the baptism of Natalie Rose Eddy!  This sermon is based on Mark 1: 1-20.
---
Two days from today, you and I will head to the polls and vote for the next President of our country.  This is not a political sermon, but I would like to start with the political setting we are in because it is the "thing" that's on so many of our minds and hearts as we come into worship this morning.  And I believe our scripture reading from Mark's Gospel has something to say about our souls in this moment as people of faith:  
In 1947 Hillary Clinton was born in the suburbs of Chicago and grew up in the United Methodist Church in which she was baptized.  In 1946 Donald Trump was born in New York City and was baptized at a Presbyterian church in Queens.  Mike Pence was born in Indiana in 1959 and was raised Roman Catholic and baptized into that church as was Tim Kaine who was born in Minnesota in 1958 and also baptized in the Roman Catholic church.  
All four candidates for the Presidency and Vice-Presidency of the United States are the same as you and me.  
They are the same as Natalie Rose who we just baptized today.  
They are baptized.  
They are no better in the eyes of God.
Because they are a Republican or a Democrat.
Because they are from this state or that state.  
No better because they are liberal or conservative.
Or running for President and you and I are not "competing" at that level of government.
I am no better than you because I am clergy.
Natalie Rose is no better than other children because her dad is the pastor of this church.
You are no better if you have a PhD or a GED.
If you have gone to jail or you have a perfect record.
If you are fat or thin.
If you are white, black, brown, yellow skinned.
Old or young.
Able-bodied or not.
If you are a farmer or and executive.
If you have documents or are undocumented.
It does not matter is you are Protestant or Catholic.
A good or a bad parent or spouse or friend.
You are no better in the eyes of God than any other person.
And that is why baptism is radical.
I am the same in the eyes of God as Donald Trump.
You are the same in the eyes of God as Hillary Clinton.
Your pastor is the same in the eyes of God at Tim Kaine.
Baby Natalie Rose who is our newest baptized member of the Church is the same in the eyes of God as Mike Pence.
For we are all equal.
All baptized in the name of Jesus Christ.  
And baptism equalizes us in God's eyes.
Isn't that hard to swallow?  
It's that hard to imagine?  
Most of all, isn't that truth hard to live into?
This radical, expansive, out of control, out of our world love that God has for us?
That love that you and I struggle to muster up for others, and many times even for ourselves?
As God's beloved.
Wow.  
Baptism is the most radical thing we do because baptism is when we acknowledge publically in the community of faith the deepest, truest thing we know about who we are as children of God – that we are beloved, that we are God's and that each person is equal in the eyes of God.  In baptism as a community of faith we say "yes" to every single child, whether they are a member of this church or any church.  Whether they are Presbyterian, or Methodist or Roman Catholic, or Baptist or Greek Orthodox – they are a part of the Church.  That's what we mean when we say the Apostle's Creed, when we say we believe in one holy, catholic Church.  That's catholic as global, as universal, not Roman.  Catholic as inclusive of all people of faith, all who live into our faith in Jesus Christ.  Baptism is you and I saying "yes" to every single person the way God has said "yes" to us.  And holding our hearts and our souls open to every person, no matter who they become in life, no matter what they do for good or for evil.  Each one of us is beloved, children of God.  
In our scripture reading for today we hear the familiar story of John's baptism of Jesus in the Jordan River.  Now, if baptism was all there was to faith, then the Gospels would just be story after story of Jesus going around baptizing people.
But that's not what the Gospels are all about, the Gospels are about what you do after baptism, how you live out your faith. The Gospels are full of stories of people being taught by Jesus how to live out their faith, how to lead others to faith, how to expel the evil in their midst and stand up to the powers and principalities of this world as a way showing their changed life as those who are baptized.  Baptism is the beginning of a life of faith and membership in the life of the church.
In our Book of Order of the Presbyterian Church USA we hear these words about what membership in the Church is, a membership we grow into as we go from baptism to a profession of faith at some point in our lives, usually during confirmation, and like the Gospels, is a faith that is constantly re-examined, and the calling of Jesus Christ is to live this faith out as fully as we are capable of doing in every season of life.  It is a call to stretch and to grow as we seek to be disciples of the one who first calls us "beloved" in our baptisms:
Membership in the Church of Jesus Christ is a joy and a privilege. It is also a commitment to participate in Christ's mission. A faithful member bears witness to God's love and grace and promises to be involved responsibly in the ministry of Christ's Church. Such involvement includes:

proclaiming the good news in word and deed,

taking part in the common life and worship of a congregation,

lifting one another up in prayer, mutual concern, and active support,

studying Scripture and the issues of Christian faith and life,

supporting the ministry of the church through the giving of money, time, and talents,

demonstrating a new quality of life within and through the church,

responding to God's activity in the world through service to others,

living responsibly in the personal, family, vocational, political, cultural, and social relationships of life,

working in the world for peace, justice, freedom, and human fulfillment,

participating in the governing responsibilities of the church, and

reviewing and evaluating regularly the integrity of one's membership, and considering ways in which one's participation in the worship and service of the church may be increased and made more meaningful." (G-1.0304)
Faith is not stagnant.  
Baptism is the most radical thing we do because it invites us into a changed life in Jesus Christ.  Baptism begins the process of being a follower of Jesus Christ, one who lives in the ways that mirror the life of Jesus that we find in the Gospels.  As Presbyterians, we understand baptism as the theological beginning to a life in Jesus Christ and an invitation and commitment to the marks of membership with every aspect of our lives.
Baptism is the most radical thing we do in our lives because baptism is when we renew our commitment to Jesus Christ as Lord of our lives, nothing else.  And that commitment is a life-changing, world-changing, earth-shattering vision.  Baptism, membership in the Church of Jesus Christ is serious business.  That's our challenge today.  
Baptism, isn't about cute babies, even though we can all agree that Natalie Rose is adorable.  Baptism is about total and radical obedience to Jesus Christ.  Baptism is about the hard work of faith.  Baptism is about the mystery of faith that you and I are the same as people like Hillary Clinton and Donald Trump and the person who has hurt us and the person who has loved us the most.  
Isn't that hard, that mystery of God?  Doesn't that take more than our lifetimes combined to figure out?  
Baptism is about living out our faith before Election Day and after and about building the community and the world that is beyond all you and I can imagine, one that is the full of the reign of God—a reign of God that is for peace and for justice for all people, because of that crazy mystery of faith.
And it is the fullness of our calling.
Thanks be to God!  Amen!  
---
Image: The Baptism of Jesus, He Qi