A thank you to the Brunswick Church who invited me to share worship with them this weekend, the last weekend before their new pastor, Rev. Henry Kim begins his ministry.  At Brunswick, there are slides on screens to go with the sermon.  The quotes that were interspersed throughout the sermon come from the  Rev. Dr. Yolanda Pierce, who is the Elmer G. Homrighausen Associate Professor of African American Religion and Literature and the Director of the Black Church Studies Department at Princeton Theological Seminary.  Dr. Pierce has been sharing numerous theological quotes during Black History Month on her twitter feed, and these quotes come from that source. Portions of this sermon were previously preached.
Late that day he said to them, "Let's go across to the other side." They took him in the boat as he was. Other boats came along. A huge storm came up. Waves poured into the boat, threatening to sink it. And Jesus was in the stern, head on a pillow, sleeping! They roused him, saying, "Teacher, is it nothing to you that we're going down?"

Awake now, he told the wind to pipe down and said to the sea, "Quiet! Settle down!" The wind ran out of breath; the sea became smooth as glass. Jesus reprimanded the disciples: "Why are you such cowards? Don't you have any faith at all?"

They were in absolute awe, staggered. "Who is this, anyway?" they asked. "Wind and sea at his beck and call!" (Mark 4)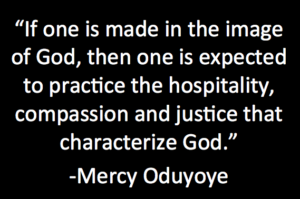 "Teacher do you not care that we are perishing?"
Pastor, do you not care about the membership numbers?
Pastor, do you not care about the youth group?
Pastor, do you not care about my mom who is in the hospital?
Pastor, do you not care about the strawberry festival?
Pastor, do you not care about the leaking roof?
Pastor, do you not care about how we format the worship bulletin?
Pastor, do you not care about what hymnal we use?
Pastor, do you not care?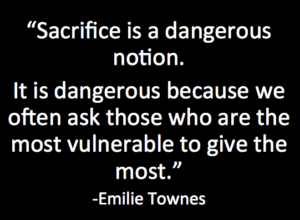 You can imagine Jesus sleeping in the stern of the boat as it bobbed up and down on the sea, gently rocking him to sleep.
Jesus finally getting the opportunity to rest.
He had just engaged in healings and teachings. He had struggled with his family relationships.
He has been going non-stop.
He must have been exhausted. He must have been tired.
And so as he goes out onto the sea with his new disciples, most of them fisherman and night falls, he allows himself to fall asleep and take the rest he has been needing. To get a night's sleep.
To let others be in charge and steer the ship.
To take a rest from leadership.
No sooner does he fall asleep than a storm begins.
Jesus still does not wake up. He is so very tired.
And then he is woken up in the most unceremonious way.
Hands shaking his body.
Pushing him.
Poking him.
Yelling at him.
Accusing him.
"Teacher! Do you not care that we are perishing?!?!?"
Can you imagine?
Any of us who have been woken up when we are sleeping, bothered when we are trying to take a break, harassed when we have been trying to rest.
Can commiserate with Jesus.
What is wrong with the disciples?
Why are they so stressed out?
Why are they so worried?
Why are they not trusting their skill set?
After all they are the fishermen.
They know the sea.
They must have been in other storms before.
Jesus is not a fisherman.
Jesus is not an expert on sailing.
What is wrong with the disciples?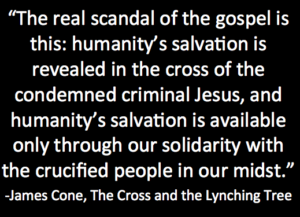 What is wrong is that they are anxious.
Anxiety robs us of our ability to think clearly and to behave rationally or politely. Anxiety causes us to lash out, to not trust our instincts or our accumulated skill set. Common, every-day occurrences make us behave differently.
The disciples are anxious.
I would like to suggest that their anxiety is not about the storm.
They know what they are doing.
They are the experts of the sea.   
But they have been hanging around with Jesus for a few weeks or months perhaps and what they have seen thus far is beginning to scare them. He's taking them to the other side of the sea, to new territory and they know what is over there on the other side—people who are like the walking dead, victims of violence and terror and who are not right in the head. And Jesus is taking them over there. They've seen Jesus touch untouchables; heal those who no one else cared to heal. They've seen him talk back to his family.
And they are at that moment when you have started something new and you are starting to have misgivings.
They are in the middle of the sea.
There is no turning back.
And they have decided that their skills no longer work, they are leaving all of the control in the hands of Jesus.
They have sunk into a spiral of anxiety.
In many ways, the severity of Jesus' teaching in Mark is not that different from the severity of the teaching in Matthew we also heard today:
When he finally arrives, blazing in beauty and all his angels with him, the Son of Man will take his place on his glorious throne. Then all the nations will be arranged before him and he will sort the people out, much as a shepherd sorts out sheep and goats, putting sheep to his right and goats to his left.

"Then the King will say to those on his right, 'Enter, you who are blessed by my Father! Take what's coming to you in this kingdom. It's been ready for you since the world's foundation. And here's why:

I was hungry and you fed me,
I was thirsty and you gave me a drink,
I was homeless and you gave me a room,
I was shivering and you gave me clothes,
I was sick and you stopped to visit,
I was in prison and you came to me.'

"Then those 'sheep' are going to say, 'Master, what are you talking about? When did we ever see you hungry and feed you, thirsty and give you a drink? And when did we ever see you sick or in prison and come to you?' Then the King will say, 'I'm telling the solemn truth: Whenever you did one of these things to someone overlooked or ignored, that was me—you did it to me.'  (Matthew 25)
This passage in Matthew is smack in the middle of a long series of teaching that Jesus gives the disciples that has been going on for some time.  At the end of it, going into Chapter 26 Jesus starts to talk about his own impending betrayal, arrest and murder.  Just like the Mark passage, Jesus is laying out some serious and maybe even scary information for the disciples on what a life of discipleship and following of him will actually look like in practice.  
In the time of Jesus there was teeth to these actions.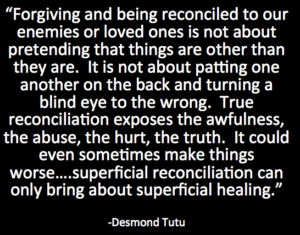 Someone who was sick was probably cast out and on the edges of a community because their illness was a sign of their impurity.  Today we help those who are ill, doctors open up their offices for an appointment.  No so in the time of Jesus.  If you were sick, there was something wrong with you, and you needed to be cast out and ostracized.  
Someone who was in jail in the time of Jesus was literally chained to a Roman guard.  Their family or friends had to visit them in jail and bathe and wash them, feed them, care for them.  None of those things in the time of Jesus happened in jail.  And if no one cared about you, or knew you were there, then you were left to die like that.  And your family and friends had to encounter that guard as well.  
In the time of Jesus someone needing clothes was quite literally naked.  Not someone who doesn't have much, which is usually our situation today.  Someone who is wandering the streets (or not) naked because they have nothing to clothe themselves with.  And in the time of Jesus, the people he was talking to, the disciples, they didn't have a whole wardrobe at their disposal, maybe one, if they were lucky two, tunics.  So if they clothed someone, then they themselves might very be the naked one.  
These are all very, very hard teachings of Jesus.  In Mark and in Matthew Jesus is telling those who have chosen to follow him that there is no easy way.  
There is no shortcut, there is no off ramp.  
It is going to be hard.  
It is going to be costly.  
Jesus wants them to understand what discipleship really is – sacrifice.
And in Matthew…in the next chapter, he tells them that he will be betrayed, tortured, and murdered.  
These passages raises many questions. I'd like to focus on just two today as you prepare as a congregation to embark on your next chapter in ministry this week: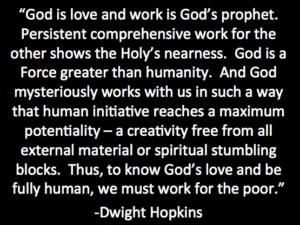 One of them is: how is ministry practiced?
The best pastoral leaders are not what I call "Christian Performance Artists" but leaders. But oftentimes what we want is the Christian Performance Artist. The pastor who does the leadership of Christian faith for us. The pastor who makes all the hospital and shut in visits so we do not have to. The pastor who organizes every worship service. Who takes care of the building and creates the committees of the church.  The pastor who does it all. For the world we live in today, the communities we are a part of in this part of the country where conservatively 30% of people identify as "none", as in no religious affiliation of any kind, be it Presbyterian or Catholic or Jewish or Muslim, Buddhist….anything—and are not looking—we need pastoral leadership that leads every single member of every single faith community to be a leader. For the congregation to take on the work of visitation, building maintenance and other tasks so that the pastor is free to spend 90% of hers or his time equipping others for ministry. Being a teacher.  Being out in the community talking to people who have no affiliation but are looking for a place to belong about Jesus and about this congregation. Helping every single person who is a part of this community of faith deepen their discipleship. Pushing the envelope and never slowing down. Being an encourager, a coach and a cheerleader. Not becoming a specialist in everything—but being a specialist in one thing only: sharing the love of Jesus Christ, teaching and making disciples and multiplying ministry while at the same time being an interpreter of today's culture and engaging in innovative practice to reach new people in one of the hardest times for any of us to be engaged in this practice we call being Church together.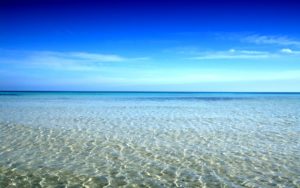 The second question is: what kind of a sea do we like?
Most of us if we are honest prefer tranquility, peace and calm. Like the disciples in the boat we prefer (and I include myself in this!) a sea that is clear blue water. Looks like a mirror on top. No waves. A light breeze that takes you exactly where you want to go. But that was not what the disciples got that night. And that is not what we are going to get into the future. Let us remember the historical backdrop to Mark's Gospel:
"As best we can discern, Mark's church was living in the shadow of the traumatic war of the Jews against Rome that ended with the destruction of Jerusalem and the temple."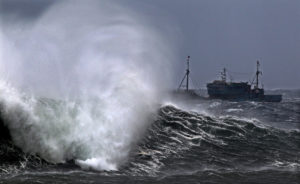 The sea around them was not calm. It was disturbed and traumatized from years of war and violence. Symbols and structures of importance had been destroyed.
We are in one of those choppy and chaotic times today.
The sea around us is not calm.
We might not have the same exact situation that is being faced by those in Mark's Gospel—but we can relate to the feeling of wanting a calm sea. Dreaming about smooth sailing.
As your next pastor begins this will not be the case.  Of course there will be joy and love and a new beginning. But there will also be greater challenges ahead of you than you have faced in your past because we can't do things in church the way we have in the past, and every single one of us has to take up the call to death and then resurrection-living.  And then take that up as a community of faith.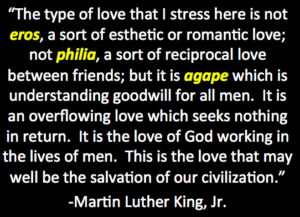 Living out and sharing the Gospel in this time is difficult work. Ministry of our present-future requires a new level of commitment to constant change and constant learning. The work of community building will be more difficult because we are blessed to be living through the next reformation of our Church. A new awakening. So we have to be prepared for rough waters, choppy seas—the seas of change and renewal of the Church. That is the sea we are facing. Just like the sea in today's Gospel passage.
Here's the Good News!
You are not alone.
The Presbytery is here, your neighboring congregations are here.  
The Holy Spirit is here!
And God knows about the choppy sea and the needs you have in navigating them.
And God has already planned and provided for your next pastor.
And here's the Good News!
You are not alone!
The sea may be chopping but Jesus is steering the ship.
No one else.
And we are not alone.
And the way and new beginning has already been provided for.
In the words of the Psalmist:
O sing to the Lord a new song;
  sing to the Lord, all the earth.
Sing to the Lord, bless his name;
  tell of his salvation from day to day.
Declare his glory among the nations,
  his marvellous works among all the peoples.
The Good News, for you and for me.