This sermon was offered on Sunday April 15, 2018 at the Valley Presbyterian Church. Thank you to the Rev. Adele Crawford for the invitation.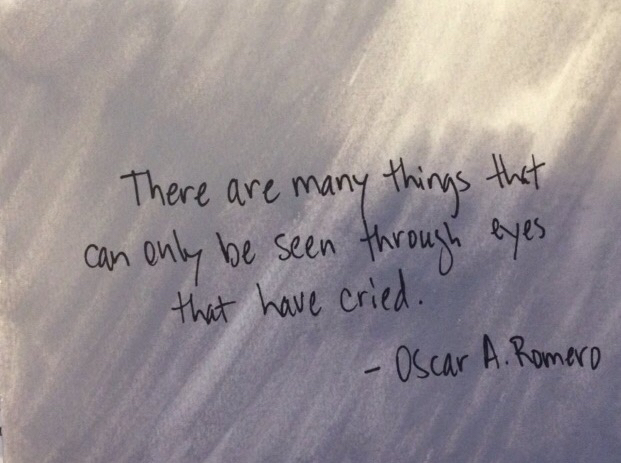 Singer/songwriter Gordon Sumner (better known as Sting) wrote these beautiful lyrics in the late 1980's:
If blood will flow when flesh and steel are one
Drying in the color of the evening sun
Tomorrow's rain will wash the stains away
But something in our minds will always stay

Perhaps this final act was meant
To clinch a lifetime's argument
That nothing comes from violence and nothing ever could

For all those born beneath an angry star
Lest we forget how fragile we are

On and on the rain will fall
Like tears from a star
On and on the rain will say
How fragile we are

I have been imagining the idea of fragility over these last few days.
Things that are fragile break.
Sometimes so do things that are strong.
Some things are weakened over time, like institutions, intentionally made fragile so that they can break and then be controlled.
Sometimes this is done to people, whole countries, whole cultures.
Oftentimes in our most sinful states, we intentionally break and damage things, make them fragile and unable to be repaired.
We do this out of hate or fear, worse yet out of things such as racism, sexism or xenophobia.
And then there are things that are made fragile because we chose a long time ago not to fix them when we had time and opportunity. Maybe neglectfully we didn't care, or it just seemed impossible, so…why try? When I look at the morass that is the country of Syria I see this sort of fragility coupled with intentional breaking as well.
Even with complicated breaking, fragility, we must say as people of faith, who follow Jesus Christ, Prince of Peace, that violence of any time, no matter how we might justify it, is always wrong.
Is always offensive to God, and is always sin-filled.
We worship a God of new beginnings, a God of possibility and Resurrection.
We do not worship a God of death, of hatred, of violence and of war.
So as Christians we always know what is the path to choose and the place to which we are called.
To be people of peace, and to the practice of nonviolence.
We know this because Jesus who saved us taught us these things.
And in the midst of those things, there is deep fragility.
The fragileness of the people born to a place that has seen unfathomable levels of violence and destructiveness, children who are born with very little future and a world community that in its fragileness and sometimes faithlessness, mostly chooses what is thought of to be the easy path, the quick fix, rather than choosing roads of faithfulnesswhich are resettlement, accompaniment, the hard work of rebuilding in peace.
Into all of these things this week, most especially this week, enters more news of the Resurrection in our new Easter Season. In Luke's Gospel, right after the women have come from the tomb of Jesus and found it empty, we hear the recounting of a simultaneous encounter on the same day. Another group of disciples of Jesus were walking down a road talking about what had just happened, the arrest and murderous, violent crucifixion of Jesus. They are about seven miles outside of Jerusalem, walking away from the place where so much had happened.  A man appears and starts to walk with them and they do not recognize him.
It is of course, Jesus.
He draws them into a conversation,
listens to them,
scolds them a little bit,
and then patiently re-teaches them what they need to know.
Finally, he breaks bread and shares a meal with them.
And then they recognize that it is Jesus.
The encounter goes on to the end of the Chapter, and at the end of it the disciples have turned around and gone back to Jerusalem. They had regained not just their faith and hope, but their courage.
What was fragile was healed.
It is not always that simple is it?
Life, leaves us broken.
And sometimes we do not have enough faith to go forward.
It is ok to be fragile.
It is ok to be broken.
It is ok to not have everything figured out.
And it is ok to not want to go to Jerusalem, or anywhere else that makes you afraid.
It is ok.
Theologian David Lose says these words about this passage in Scripture:
Jesus once again meets them (the disciples) – meets all of us – where we arein order to embrace our wonder, disbelief, and joy and gather us up into the marvelous, surprising, expectations-defying grace of God…We can tell our folks to bring their whole selves – joy, disbelief, wonder, anger, expectations, hopes, disappointments, dreams, and more. Because God is eager to gather them all up, meet us where we are, and send us out to be witnesses, witnesses to how God was present in all of it, accepted all of it, promised to use all of it, even blessed all of it. That's what God does.[1] 
This past weekend I spent some time at a Synod retreat where we talked a lot about the Church of the present and the Church of the future. One of the things we talked about is that for much of its recent history, the history that drives who we are today, the Church has been about perfectionism. People are afraid to come into our doors because they know there is the weight of expectation. You have to look, dress, act and be a certain way. So, if you feel like you are different from the "norm" in any way, then most people believe they are not welcome in our churches.
And if we are honest, that's actually true.
We have a lot of judgy-expectations.
New ways of doing worship are not readily embraced, new forms of leadership are not easily imagined. And then a visitor comes in who is "different" and we give that person "the look." I know this because I get "that look" quite a bit. I visit churches all the time, and I've had many inhospitable things done to me. I wrote about some of this in my weekly column to the Presbytery in the fall. One church I walked into, the greeter at the front door said, "Who are you, why are you here?" At another church, people greeted each other and ignored me during the passing of the peace, and then later, after ignoring me, my pew mate, reached over and took the hymnal away from the rack in front of me and passed it up a pew to someone who was clearly her friend.
And I am a church insider!
But imagine if I was someone who was fragile walking into worship and wondering if I'd find a welcome, who had just had the worst week of my life and was looking for help and wholeness? Or if I was someone who had been checking out the church online for months and listening to the Pastor's sermons and had summoned up the courage to try it out in person?
Just imagine.
The Emmaus Road story is for us today.
It's for us because so many of us are fragile.
It's for us because the world we live in today is fragile.
It is for us because each week we confess in our brokenness we have sometimes participated in making people and communities fragile.
But that is not the end of the story.
Jesus enters the fragile places and speaks words of grace and love-
Healing
But Jesus doesn't stop there.
He also speaks words of challenge and a little bit of let-me-kick-you-in-the-butt-you-are-doing-things-wrong-already
Jesus doesn't let them stay in fragility
But he loves them
Listens to them
Eats with them
Fellowships with them
All in service to the larger goal
Which is to get them to turn around
And return to Jerusalem
The scene of the crime
The place of violence
Empire
Fear
But also, the place where the Resurrection is beckoning.
So, where is our Jerusalem today?
The place we are walking away from because we are fearful?
The place we don't want to go to because we are without faith?
The place we don't want to go to because "those people" are there
Or "that person" and their gifts might change us?
To me Jerusalem today feels like
Syria
Yemen
Families broken by addiction who are hiding the truth from everyone around them
Persons trapped by poor health and illness
The conversations we do not want to have
The people we do not want to see
The "church" and its traditions of the past we treat like a golden calf
Jerusalem is whatever is scaring you, the place you do not want to go
The thing you do not want to do
Where you believe
Believe resurrection cannot
ever
happen.
And yet that is where Jesus says we must go.
Because our fragile places are in his love and care.
And that gives us courage to be like him
Prophets
Rebuilders of the ruins
The people that raise up generations
Repairers of the breach
Restorers of the streets
Our Easter calling
To be those who with Jesus
Make the fragile places whole.
Resurrection
Thanks be to God.
Amen.
___________________
[1]http://www.davidlose.net/2018/04/easter-3-a-all-of-it/
From Wikipedia: The song, "Fragile" is a tribute to Ben Linder, an American civil engineer who was killed by the Contras in 1987 while working on a hydroelectric project in Nicaragua.
Thank you to to the Rev. Eliana Maxim for the reminder of this beautiful singing of the song with Stevie Wonder which got me thinking about the sermon and scripture this week.
Thank you to the Revs. David Bennett, Jeremy Campbell, Larissa Kwong-Abazia and Amaury Tanon-Santos for some fun ideas.  🙂