I am excited to say, it is time for some news about what's next for me professionally.
After nearly three and a half years my time as the Transitional Presbyter for Albany Presbytery will come to an end on June 30, 2017.  It's been both wonderful and challenging.  Mid-council leadership at this moment in the life of the Church is an amazing space to create change and asks some of the most of you in creativity, adaptability, faithfulness and flexibility. I have been honored in Albany to be part of the birth of New Worshiping Communities, some fantastic ecumenical and interfaith partnerships, serving with some great pastoral leaders and community organizers, transitional visioning/organization and some fun experimentation around cross-Presbytery leadership.
It has been an honor.
And, I have come to learn that I love and feel deeply called to mid-council ministry.
So . . . I am excited to announce that at their Stated Meeting on May 6, 2017, the Presbytery of Southern New England voted to call me as their next installed General Presbyter.  I will begin ministry with them on August 1, 2017.  I'm very pleased to come along this Presbytery and its leaders in seeking God's future together.  Their vision is to engage in a flattened Presbytery structure which empowers the leaders and ministries within their bounds and offers the space for new ones to crop up.  I was particularly drawn to how they described their desire for someone to serve with them with energy, intelligence, imagination and love in their MIF which is a great way to draw up a job description, based off of an ordination vow!
At my first meeting with PSNE last weekend we talked about immigrant rights (and passed a Sanctuary overture encouraging all congregations in the Presbytery to consider Sanctuary and ways of deepening their accompaniment of immigrants), power-dynamics in gendered relationships in the Church, and had a powerful worship experience together focused on peace in Eastertide.  This Presbytery is in the process of a transformation. I am honored to be beside them as we grow together and to continue working with the team of mid-council leaders here in the Synod of the Northeast.  The Presbytery of Southern New England spans the states of Connecticut, Rhode Island and western Massachusetts and includes Hartford Seminary and Yale Divinity School in its bounds, so it will also be great fun to connect more deeply again to these institutions.  Ecumenical ministry is a high value in Southern New England as it has been here in Albany, so I am glad that I will get to continue to work at a deep level with other denominations.
Some more information . . .
We are not moving.  We are staying here at our home in Albany.  I'll be commuting in and spending time in Southern New England but the position is 3/4 time and already has a virtual office.  This gives me the flexibility to pursue some other callings that have been working on my spirit…..
I have been invited to join the Vandersall Collective; a smart, creative and intersectional consulting collective founded by my longtime friend and member of the College of Wooster possé, Mieke Vandersall.  Check out this simply amazing grouping of fantastic people and just soak in and notice all the ways this vision can resource justice-seeking, intentionally transformational and adaptive ministry.  Yes, it's here.  We are building for the present-future that is with us.
I'll still be serving as an Elected Member on the Presbyterian Mission Agency Board, as Co-Moderator of the Presbyterian Peace Fellowship and continuing to resource congregations and mid-councils on advocacy, immigration and leadership coaching.
During July, I will be taking some down time and look forward to seeing new and old friends in these new and evolving callings.  I am beyond grateful to beloved friends, family and colleagues who have been a part of this journey and discernment.  You know who you are!  I'm also so blessed to "work" with an ever-growing group of co-laborers and co-conspirators who I just love so much.  The biggest gift in ministry is you grow and take your team with you and we have the one of the best ones here in the Northeast, and I am so glad to continue to be with them.
Some other thoughts . . .
As I served in Albany Presbytery, I used the image of a piece of art that I photographed just before I began.  This image has been a part of my presentations to the Presbytery for the last three years and has been a guide to me in my work.   The question this piece of art prompts is:
Are the green tips on those brown branches all that is left, or are they the beginning of a new greening?  The answer lies in the hands of those that tend the garden. -A Hedge Against Extinction (artist Martin Webster), in the North Carolina Arboretum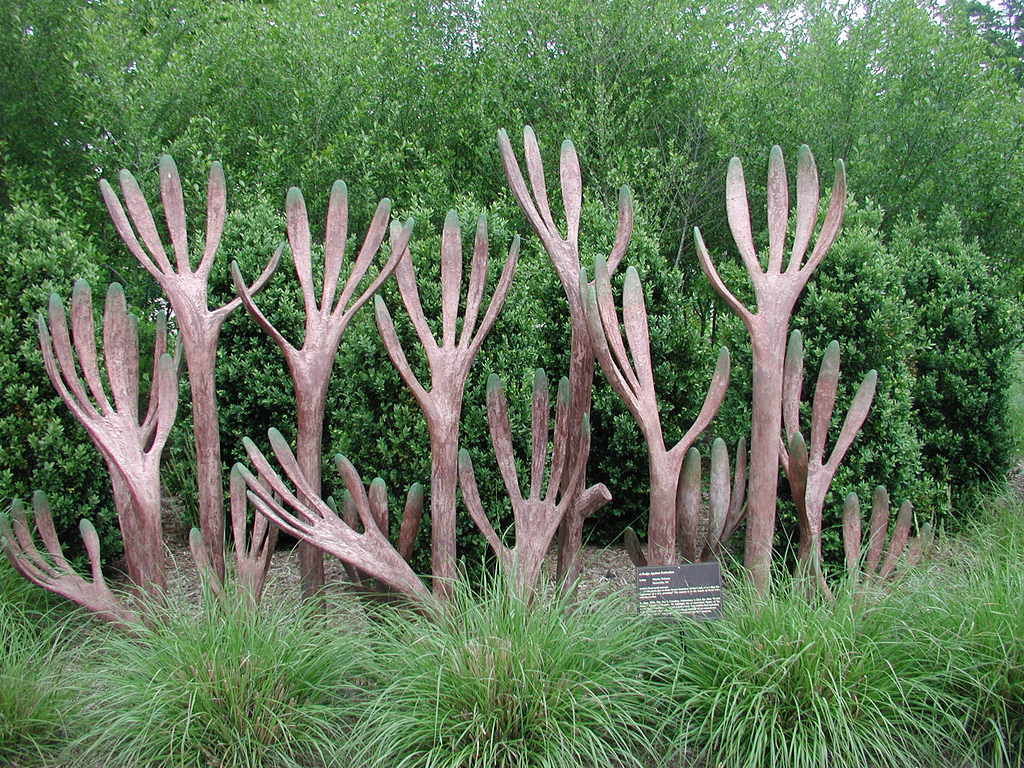 I have a new image in my mind as I begin in Southern New England.  Last fall the Rev. Susan Schultz gifted me with some of her plants from her perennial-labrynith she has in her backyard (which is amazing to behold).  I used these as the base for a new garden I dug and created in the fall, most of the planting was done during the day that the votes on the Colombian Peace Accords were being cast.  I worked and tilled the garden that day, digging things up, throwing things out, planting new things, putting in fertilizer, battling a swarm of ants that hatched in the middle of it all, got bitten, and transplanted some plants from the backyard.
I prayed as I worked on the garden for peace in Colombia and for peace in my own heart.  I wondered that day after all that work if I would see my garden come up in the spring or not (would we still be here in Albany?), and what did all of that mean?  But I wanted to create something even if I might not see it come up, something permanent and something that would be beautiful when it flowered.  This garden (which is still in formation) is my image moving forward.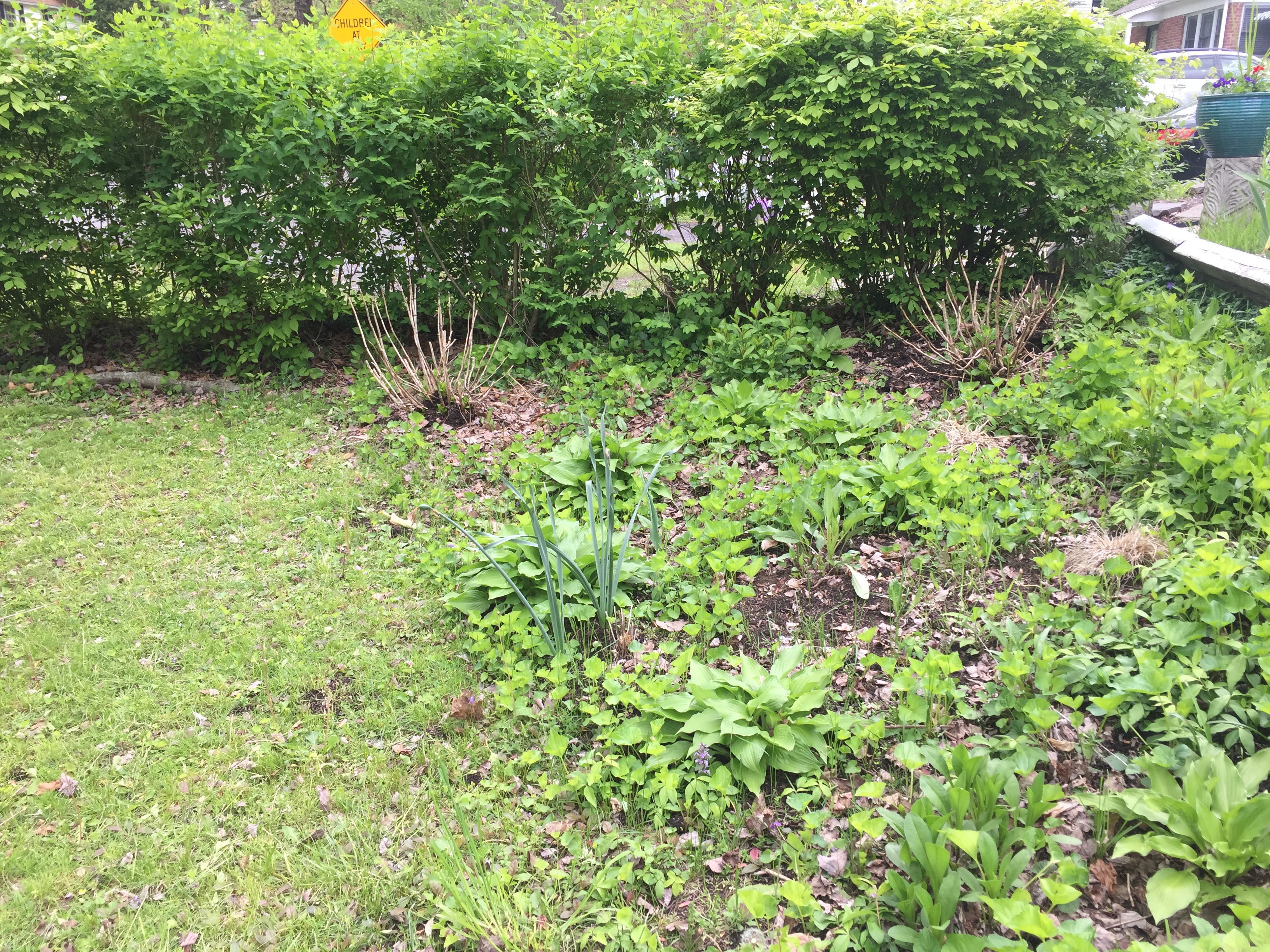 We are going to have to dig up a bunch of things in the Church.  We are also going to have to throw things out, plant something new, borrow from friends, put down the right nutrients, battle swarms of who-knows-what, get bitten, wet, messy and hot.  We are going to have to bring the water.  Some things are going to have to be moved from one location to another.  We are going to have to use our muscles and tear some things up.  We must pray more than we usually do.  Not everything will be in neat rows and do what we think we want it to do. And we need to shed some tears and probably deal with some bruises, bites and other such things.  We don't know if we'll even see what we do take shape, grow or flower.  (Real honesty: I don't like this!)
Meaning will sometimes be elusive.  It will be dirty.
But we must resist in this time by creating beauty.
I told a group I led two weeks ago that God begins and ends our biblical narrative with a garden.  And gardens are beautiful, organized, messy, and wild all at the same time.  Gardens are not ours alone because we are only working with the Creation that has been given to us.  So my new image is this garden I started last year during a month that was so uncertain in my life in ways big and small.  And I'm clearing it out now that spring is here and the plants are growing and about to flower.
So, come see us in Albany – Hotel Ocampo is always open (and we have an adorable rabbit)!
All my love especially to my beloved Juan Gabriel and Sofia Elena – who are simply the best.