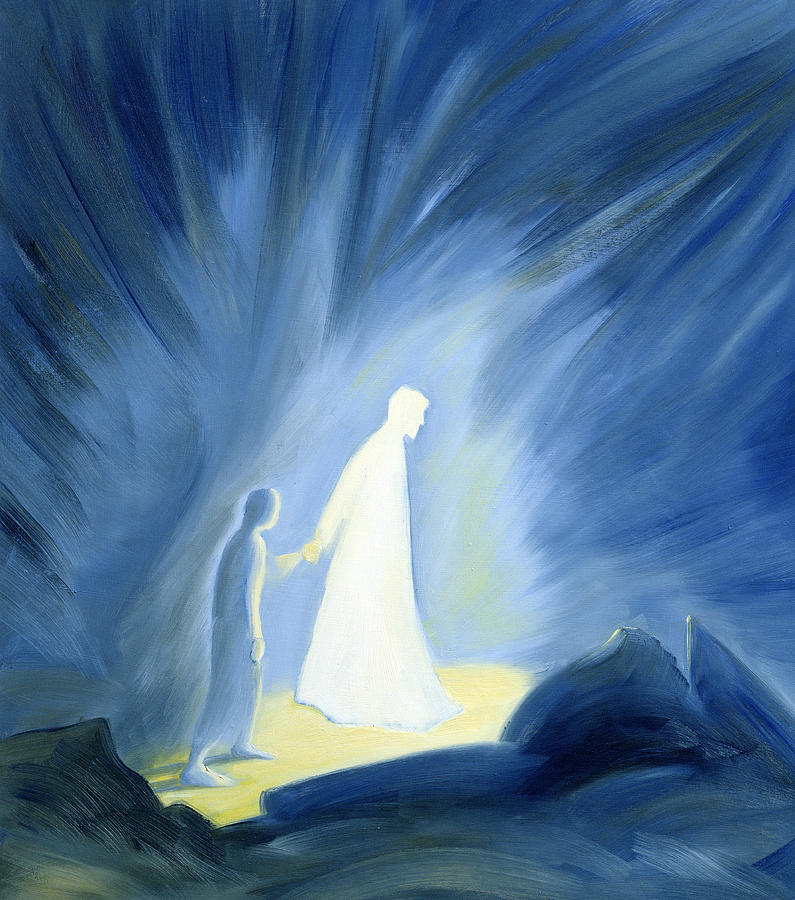 Thank you to Jeremy Campbell for inviting me to preach his ordination sermon on December 13, 2016 at the meeting of the Presbytery of Elizabeth.  Unfortunately, a family medical emergency prevented me from being there in person, and so I am deeply grateful to my longtime colleague in ministry, the Rev. Dr. Victor Aloyo who gave the sermon I wrote for me.
+++++++
I'm going to begin tonight with one of my favorite quotes from one of my favorite theologians, Walter Brueggemann:
This is a gospel time. This is a time when the old reliances have failed, when autonomous, arrogant ways of life, in many manifestations, have been shown to be empty. This is the moment to line out an alternative. We have that alternative, and it must be uttered for the sake of the body politic. -Walter Brueggemann
Here's the thing everyone.  
We are the Church.  
We are part of the Church of Jesus Christ.  
So we need to be the Church.  
An ordination of a new leader in our Church is a great time to think about the question: "What does it mean to be the Church?"
Because tonight isn't about Jeremy (even though it also is).
It's about us.  
It's about the Church.
And the calling of discipleship.  

Tonight Jeremy is going to take his ordination vows.  
But the truth of the matter is, most of us in this room have taken these vows.  
So we know them.
I love that line in the Book of Common Worship that we speak at a marriage ceremony: "May all of those who are gathered here to witness these vows leave with their own vows strengthened."
So that's my hope and my prayer for tonight.  
That we all leave this place having witnessed Jeremy take these vows with our own vows strengthened.  
Because we need to have our vows strengthened.  
Especially this year.  
Especially this Advent.
Especially for this season that we are entering in this country where you and I live, and where the congregations and communities that we are charged to care for are.
Where authoritarian "leaders" are right in our face.
But let's be very clear, this isn't anything new.  
It just feels new here in our country.
But we've been exporting this sort of "leadership" and giving it a pass for a very long time.
And Isaiah dealt with this evil.  
And the baby Jesus we are all waiting for in this Advent Season was born into a time and space where authoritarianism ruled the day.  
So let's strengthen our vows.
But let's also not wring our hands as though this is something new we are dealing with.
It's maybe just new or shocking to us because of the incredible privilege we all hold.
But now it is on our doorstep.  
And we need to strengthen our vows.
This is not about politics.
This is about the Gospel.
This is about the Creation.
This is about discipleship.
Theologian Ched Myers says of our time:
….disastrous political developments do not portend the end of our work; rather they invite us into the beginning of our real discipleship…. We'll need much more deeper theological and spiritual grounding to weather this storm.  A thin faith will not do, nor will it inspire power social movements of resistance and renewal.
I want to suggest tonight that there are three prophetic themes in our passage from Isaiah that all work together:  
The theme of prophetic

extravagance

The theme of prophetic

wholeness

And the theme of prophetic

testimony

or

truth-telling
I want to use the word prophetic in an intentional way tonight.
It's not just a word for Jeremy but for all of us.  
The Prophets as we know, they rule the biblical narrative.  
They give it its life, its power and its truth.  
One of them provides us with ultimate salvation.
They inspire us.  They call us back to ourselves.
The prophets remind us of the fullness and the cost of discipleship.  
So I want us to dig deep tonight into Isaiah 35 and these three prophetic themes: extravagance, wholeness and testimony.  
Extravagance
Isaiah speaks to us in this passage about God's stunning, world-altering extravagance.  Isaiah speaks to us about the breathtaking surprises that God has in store for us.
And it is prophetic because how in the world could Isaiah believe in extravagance in his time?  How could he with a straight face and with a real-heart speak about extravagance to his community that was under the siege of the Babylonians?  
The wilderness and the dry land shall be glad!  The desert shall bloom and rejoice!  Weak hands will be strengthened! If your heart isn't strong, it will be made so!  God is coming!  If you are blind, you'll be able to see, if you can't walk, you will soon be running all over the place!  Those who have harassed, bothered, mocked you or tried to destroy your life will be banished!  You will be in a safe place–called the highway of God, the Holy Way!
What?!!?!
I can just hear the people around Isaiah when he says these words of prophetic extravagance:  "Whatever, Isaiah, you have lost your mind.  Do you see what is going on around here? Are you even in touch with reality?"
But it is a prophetic act in a time of oppression and authoritarianism to be extravagant.  To not erect fences of fear or walls of unwelcome.  
To believe in our time in a Church that is expanding.
To deny the lies and myths of scarcity that rule the day and demand our obedience.
To believe in the extravagance of a preferential option for the poor and in doing so to engage the hard work of casting off our privilege and name our sin.
To be extravagant is to promise to be a prophet, to not allow the narrative that is "out there" to get into our souls and whisper its untruth into our ears and to start to believe in the lie rather than what we know ourselves to be.
God's beloved.
God's chosen.
The ones who God will strengthen.
The ones to whom sight will be restored.
And then as prophets we become the ones
Who will walk alongside to strengthen others.
To restore sight where others have become blind.
Jeremy, will you promise to be an extravagant prophet?
Wholeness
Right alongside prophetic extravagance is prophetic wholeness.
Isaiah is all about wholeness.
But not pithy wholeness.
Not cheap grace.
Not an easy peace.
No, Isaiah is about a wholeness that only comes after some truth-telling and the truth that Isaiah is about telling in tonight's passage is that the body is sick.  
God in Isaiah isn't about a pollyannish retreat where we all sing Christmas carols and feel good.
No, in Isaiah, God is about ministering to the very real hurts and pains that are present.
God is about caring for the dry and barren places that exist in all of us.
And all about being honest about what is dry and barren.
Not hiding it away where it doesn't cause us embarrassment.
No!  
As an act of prophetic witness bringing it out into the open for all to see.
Because you cannot be made whole if you do not get honest about what's really going on.  
That's prophetic wholeness in Isaiah 35 because it is raw, real, and honest.  
As one commentator on this passage puts it:
God always comes in judgement and salvation.  Whatever separates God's creation and God's people from God's purposes must come under the divine judgement.  Obstacles will be removed. And the covenant order restored as people and the created order enter the realm of salvation. (Feasting on the Word)
And wholeness in Isaiah is beautiful.
It's like those gorgeous flowers that only open up once a year, sometimes once a decade in a desert and all of their colors have been waiting for so long to burst forth, and when they do it is so stunning there are not enough words to describe the beauty.
It's like a person who has been brought low by illness for so long finally be well enough to not just walk but run, to see or to laugh.
To be able to drink in everything that God has stored up.  
Wholeness is whatever it is in our life that is dry and barren suddenly be full, abundant.
And that's prophetic because we've been given the lie that things like this are just not possible.  But they are, because we are God's people.  
Jeremy, will you promise to be a prophet of wholeness?
Testimony and Truth-Telling
Jeremy, I don't have to tell you that being a Stated Clerk will sometimes mean you will need to give some testimony and tell some truths!  But you are not being ordained to the office of Stated Clerk or even to being confined to Elizabeth Presbytery.  You are being ordained to the office of a Teaching Elder, a Minister of Word and Sacrament.  That's the location for the truth-telling and the testimony.
And Isaiah talks about this as well.  
Give testimony to the goodness of God.
Tell the truth about the those things that stand in the way of that love, that peace, that justice.
Be a prophet for the Truth of God, because that is going to be the most important thing you and I and all of us have in our lives.
It's always been that way, but because of that pesky privilege we all hold onto especially in this denomination, we have forgotten some of that power.
And we need to reclaim that power and that truth and that testimony.  
Jeremy, will you promise to be a prophet who tells the truth and gives your testimony?
"This is a gospel time. This is a time when the old reliances have failed, when autonomous, arrogant ways of life, in many manifestations, have been shown to be empty. This is the moment to line out an alternative. We have that alternative, and it must be uttered for the sake of the body politic."
That alternative is the Prophet we wait for in this Advent Season.
His rule.
His way.
His life.
His saving glory.
For you and for me.  
Good News.
Alleluia!  Amen!
+Cover Art from Elizabeth Wang