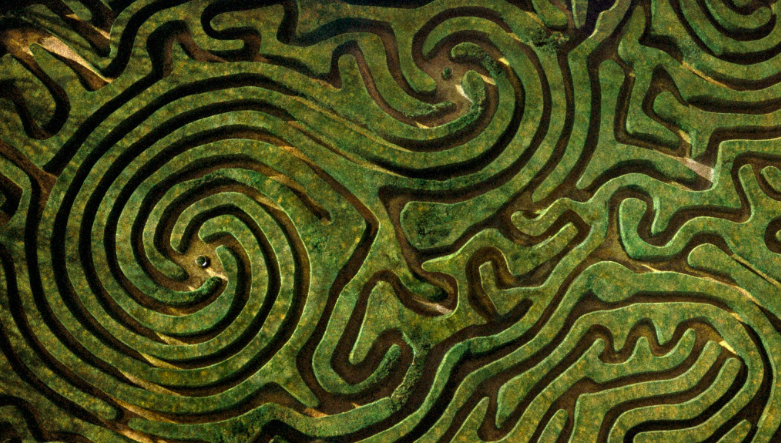 Thank you to First Presbyterian Church of Albany, NY for their invitation to preach today while their co-pastors were on vacation.  Text for today is Proverbs 9: 1-6 & Ephesians 5: 15-20
As we imagine the word "Wisdom" today, let me first state that we could spend months of sermon and adult education classes on this topic in the biblical narrative. Wisdom is best known in Christian tradition for its Greek name, Sophiaand its origins in the Hebrew tradition, Chokhmah. This central part of the biblical tradition has an extended history and many different interpretations as you move through not just the Bible but Jewish and then Christian history, and the histories that weave in and out of those, histories of Greece and the near and far East, indigenous traditions that run concurrent to early Western history, the history of the other part of our Abrahamic faith traditions: Islam, and even into other religious traditions that continue to be practiced today. Wisdom is a big topic and so there is no way one sermon can touch upon all of it.
But I love the idea of wisdom, and it is one that speaks deeply to me today, the era of "fake news" or "I am an expert at….. (fill in the blank)" or the laziness (or worst, cultural appropriation) of many I hear from today who pick and choose what they like from lots of religious or indigenous or spiritual traditions but do not dive deep into any particular one at all, instead cherry picking what suits them and then saying that they are able to guide others. Most dangerous of all of course are false prophets, those who twist or distort any religious tradition to excuse or incite hate or violence, using the title for themselves of teacher, or pastor, or prophet. All of these things are present today in our world and if we are to be serious about our faith and serious about what it means to live into open, progressive Christian theology and identity—then we need to be 100% clear on where God's wisdom starts and ends and where our faithful following of it might come into play. That is the deepest calling present in today's reading we hear from Ephesians, to dive deep into the Word of God, to allow it to infuse our lives and orient not just our thoughts, but our actions and faithful living out of Christian faith.
Listen to our reading from Ephesians again, this time from a different translation:
Wake up from your sleep,
Climb out of your coffins;
Christ will show you the light!

So watch your step. Use your head. Make the most of every chance you get. These are desperate times!

Don't live carelessly, unthinkingly. Make sure you understand what the Master wants.

Don't drink too much wine. That cheapens your life. Drink the Spirit of God, huge draughts of him. Sing hymns instead of drinking songs! Sing songs from your heart to Christ. Sing praises over everything, any excuse for a song to God the Father in the name of our Master, Jesus Christ. (The Message by Eugene Peterson)
Sounds different doesn't it? In this section of Ephesians, the latter section of the letter, Paul is concerned with the moral lives of new Christians in the early Church.  This letter is attributed to Paul, but most scholars today imagine that this was written by a later leader in the early Church, a person whose identity we remain unsure of. The first part of Ephesians is meant to talk directly to the Gentile audience and the second half of the letter, in which today's reading is found, is where the writer tries to make linkages between morality and Christian faith; how the two tie together and how love of God can bring together two groups into one faith: Gentile and Jew—and how together they can co-create a larger faith tradition—the Church—that is centered around the wisdom and the morals founds in the life of Jesus Christ. The key elements of this life of faith are peace and also unity—the result of these two things being new and different lives, lives that are in fact, counter-cultural.
The writer of Ephesians says: "Wake up!" "Climb out of your coffins!"
The writer acknowledges that many people are sleepwalking through life—the effect of which is that they are deadened on the inside to what is going on around them and that they are failing to apply the wisdom of Christ to their daily living and their interactions with the world around them.
I don't know about you, but I am very worried these days about a lot of people who seem to be sleepwalking, who are not moved by what is going on in our world today, who are not heartsick when they see what is happening around us. And I also see a lot of people who have only recently woken up to injustice, as though it is something new—when the truth is so many were sleepwalking and in coffins of safety and privilege for so many years, blinded or wanting to be blinded to what was going on around them.
If there is anything that keeps me up at night and scares me and worries me about the future it is that too many people seem to be sleepwalking, or do not want to be disturbed, or do not want to be bothered or do not want to open their eyes. And I see a lot of this these days in the larger Church, and in some cases, encouraged by the Church.
Why is this? I suspect that one of the reasons is that we know that once our eyes are opened and our hearts and souls are filled with God's Word and God's wisdom, most of the time the interior and faithful life we are called to by the transforming love, life and resurrection of Jesus does not conform to the world we live in. And we are not only asked to notice this lack of conformity but to then be non-conformists ourselves and challengers ourselves as those who follow Jesus. And this means risk, heartache and potentially threat. If we get really serious, very serious about living out our faith in Jesus Christ, it will mean a letting go for most of us in how we live, taking on risk and adversarial relationship to the culture we have grown up in and live in, and in many cases, taking on the mantle of prophet and teacher—about things most people do not want to fully engage in during "polite conversation."
It means we will have to get serious about not just interrogating or denouncing things like capitalism, white supremacy, ecological destruction, war-making, xenophobia, and so forth—but that we will have to get about dismantlingthese interlocking systems that seek nothing less than the destruction of God's Creation and all who live in it.  Wisdom, as we hear in the beginning of Proverbs 1 is like this:
Lady Wisdom goes out in the street and shouts.
At the town center she makes her speech.
In the middle of the traffic she takes her stand.
At the busiest corner she calls out:

 "Simpletons! How long will you wallow in ignorance?
Cynics! How long will you feed your cynicism?
Idiots! How long will you refuse to learn?
About face! I can revise your life.
Look, I'm ready to pour out my spirit on you;
I'm ready to tell you all I know.
As it is, I've called, but you've turned a deaf ear;
I've reached out to you, but you've ignored me…

Don't you see what happens, you simpletons, you idiots?
Carelessness kills; complacency is murder.
First pay attention to me…
Let me offer you a practical example of the reflections of someone I know who took on the seeking and living out of the Wisdom of God (the climbing out of a coffin) very seriously and is considering how it integrates into her life and Christian practice.  Her name is Angela Williams, she is studying in preparation for ordination in the PCUSA at Austin Theological Seminary and she wrote these words recently about a seminary internship this summer with the Presbyterian Peace Fellowship and Fossil Fuel PCUSA, a movement that attempted (and ultimately failed) earlier this summer at General Assembly to get our denomination to divest its financial holdings from the fossil fuel industry.  Listen to her words which to me are a living personification of what the writer of Ephesians is trying to help us get at in our own lives as Christians:
One of the greatest takeaways I am bringing from this work is challenging the notions of business as usual. We live in a world broken by white supremacy, cisheteropatriarchy, ableism, capitalism, colonialism, and many other big, scary things. But it does not have to be like this. Being God's people in this world does not mean we need to be conflict avoidant, passive aggressive, or risk averse. We do not have to stay silent when people speak or act inappropriately for fear of being called indecent or out of order…We can choose to side with the oppressed of the world, using whatever privilege we carry to act in solidarity with those living in poverty. In fact, that is exactly what God calls us to do…How do we actually do this? This is the practical nature of the work. The practice of dismantling these systems and spreading the liberative gospel includes showing up and putting our bodies on the line. It is using our time, energy, and resources to learn about climate change and listening to the stories of frontline communities…It is centering the perspectives of those most impacted by our investments in the fossil fuel industry, those who cannot wait any longer for power brokering in corporate boardrooms…Joining this movement for climate justice and divestment from the fossil fuel industry has deepened my understanding of what ministry is. As a hopeful future pastor and community organizer, I feel energized to dream strategically about how to build relationships to create meaningful change. Still, no matter how much preparation for ministry we do, the Spirit continuously surprises us, showing up in unexpected people and places…In those vulnerable places, the spark of ministry ignites communities to support each other with love, compassion, and sometimes righteous anger. This is what ministry is, can be, and ought to be.
Aren't her words beautiful?
I find them inspirational because it is what I think at its core, the letters in the New Testament to the early Church were all about: encouragement, deepening your faith, living in the way of Jesus and recognizing and then casting aside evil. Above all seeing these things as systemicand not individual faith-issues and being about the transformation and dismantling first of systems of evil and harm so communities, people, and all the living beings that make up the Creation can live with abundance. So often these early letters to the Christian Church have been distorted or proof-texted to cast people away or to use as fuel for individualized discrimination or misused by those more interested in authoritarian, power-hungry religiosity rather than the open-table, communitarian faith that so many of us understand the Way of Jesus to be. Part of our role today as the Church in 2018 is to live boldly as people of faith and to practice radical hospitality, Sanctuary and nonviolent civil disobedience when the culture around us needs a corrective. To be strict and stringent in our understanding of Scripture and its wise guidance for our lives and society not because we are literalistsbut because we are scripturalists, and we have chosen to organize our lives around a stepson of a carpenter and a son of a young mother who ended up becoming the Teacher who offered the Way to live faithfully in a time of Empire, militarism and disregard for the Creation-family.
I hear these echoes in my Angela's writings about how she is learning to be a leader in our Church and I hear whisperings of the Spirit's call to each of us in her words.
As the words of our opening hymn encourage us:
Save us from weak resignation,
To the evils we deplore.
Let the search for Thy salvation,
Be our glory evermore.
Grant us wisdom, grant us courage,
Serving Thee whom we adore,
Serving Thee whom we adore.
Grant us wisdom.
For it is in Holy Wisdom that we find our way in the time God has created us for.
For it is in Holy Wisdom that we find our way as people of The Way.
Glory be to God.
Amen.
Image: Financial Times
For some in depth theology around climate change, wisdom and the biblical tradition with Ched Meyers, see the video below. During the Fossil Free PCUSA walk this summer, there were video teach-ins across the academic spectrum. I encourage everyone to take time to watch all of these videos that can be accessed at this link.